Literacy
OLBTO offers various trainings to all the resource persons that are under the organization. We have many primers and some literature materials for teaching literacy in the mother tongue. This training comprises normally refresher Courses [RC] for teachers, scripture promotion training called "Ifufuk Ikpa Mbuban" for church Pastors, leaders and workers.
The programmes aim at training native speakers on how to read and write their heart language in a formal way. It is in order to help enhance the use of translated Scriptures here after the training so that there will be more impact in the language area.
On one of the church leaders training, participants were helped to identify the books of the Bible in their heart language.
Below are some of the pictures taken: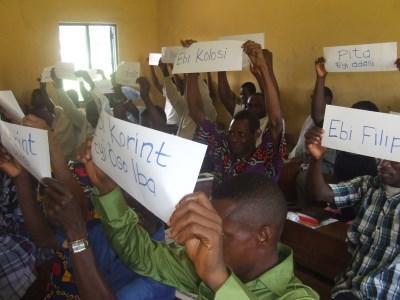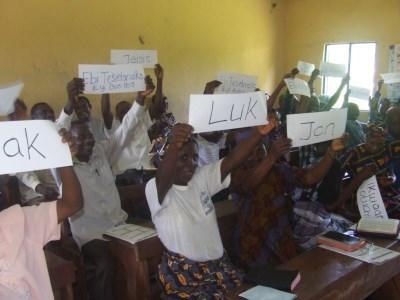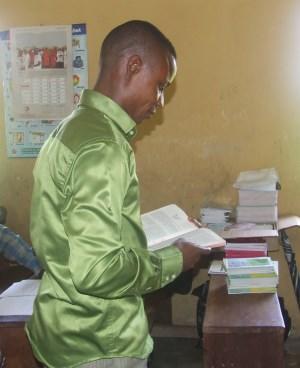 In this picture each participant identified the book of the Bible in his/her hands.
The church training has a lot to offer such as:
Basic linguistic lessons
Reading and writing materials
Production of bible study outlines.
Liturgical and non-liturgical approach to Scripture Reading 
Organize RPs training
Sound Bible study class and strategical principles.
Songs composition in mother tongue.
Literacy Principles
The Literacy workshops have a lot of program in line, as to what area to cover varies,
Training to write and edit readers for bilingual School.
Production of Readers for the public schools.
Production of annual newsletters
Organize teacher/writers training
Reading and writing materials
Keep literacy and other publication materials in public for distribution and awareness.
Organize seminars and refresher course for all literacy coordinators